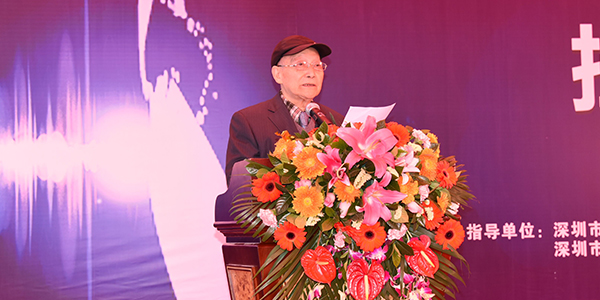 Academician Prof. Liu Shenggang addressed on the unveiling ceremony of Shenzhen Institute of Terahertz Technology and Innovation
I'm very pleased to meet all of you again in Shenzhen, a city with the spirit of innovation. I still remember I was here in Shenzhen and China Communication Technology Co., Ltd. (CCT) attending the unveiling ceremony of Guangdong Academician Expert Enterprise Workstation and had the honor to be the chief academician in 2014. Today, the unveiling of Shenzhen Institute of Terahertz Technology and Innovation is promoted by the fruitful work we did last year. The scientific and technological innovation has been highly valued by the Shenzhen Municipal People's Government, indicating a sincere and down-to-earth leadership of CCT's Chairman Mr. Wu Guangsheng.
Academician workstation has carried out productive work over the past year. In the aspect of the THz technology exchange, we held the international THz conference and issued the conference proceedings gathering scientific papers of the latest THz research achievements. In the aspect of the resource allocation of the THz research, we established key labs and brought in a group of advanced scientific talents from domestic and overseas colleges or universities such as South University of Science and Technology of China, Shenzhen Institute of Advanced Technology, University of Bath and City University of Hong Kong etc. In the aspect of R&D projects, we carried out R&D and industrialization projects of developing novel instruments of terahertz spectroscopy and imaging.
Shenzhen Institute of Terahertz Technology and Innovation is unveiling today, and I have the privilege to be the first president, I could deeply feel the heavy responsibility. THz technology is a major rising scientific technology in the 21st century, it is a technology related to the national strategy, the national economy and the people's livelihood, the scientific and technological strength, the military capability and the comprehensive national strength. Scientific and industrial works on THz technology have been carried out by various overseas countries, therefore China must not fall behind.
Shenzhen is a city of innovation and revolution. Being located in Shenzhen, the institute will blossom and bear fruit with the support of favorable ecology of science and technology in Shenzhen.
With a deep awareness of the nation's interests, Mr. Wu Guangsheng, Chairman of CCT, was determined to rejuvenate the country through science and technology. I was deeply impressed by his sincerity. I also believe it is the best choice to locate the institute in CCT. With the platform provided by CCT and the joint effort of staff and talents, the institute will become a very successful organization.
We intend to build the terahertz industry into the pillar industry of the transformation and upgrading of Shenzhen with the support of Shenzhen government and the efforts made by all the colleagues. We would make contributions to build Shenzhen into a more international and innovative city, and we will live up to the expectations from the party, the state and our people.
Thank you all!